PARIS – January 22, 2019 – First-ever DXOMARK Selfie scores revealed!
Today we have launched our new DXOMARK Selfie test protocol for smartphone front cameras. We have designed this protocol to do the same for front cameras as our well-established DXOMARK Mobile protocol does for main cameras: offer neutral and reliable test data about smartphone front camera performance and image quality to consumers and other interested parties.
DXOMARK Selfie is based on the same procedures and methodologies as DXOMARK Mobile, but we have made some important modifications to reflect the way front cameras are used. If you would like to find out more, please read our Introduction to DXOMARK Selfie, our in-depth look at how we test still image quality, and our detailed article about testing video for front cameras.
To accommodate the Selfie protocol on the DXOMARK website, we have made a few small changes to the layout that we hope you will get used to very quickly. In the screen shot below, you can see the new Selfie elements outlined in red. In the top navigation bar, we have replaced the Mobile section with the Smartphone section, which now combines all our DXOMARK Mobile main camera and DXOMARK Selfie front camera test reports. On the review thumbnails, you now see a Mobile score, a Selfie score, or both if we have tested the device's front and rear cameras. In the right-hand panel, you see the Mobile and Selfie rankings side by side. You can switch between the ranking categories by clicking on the icons at the top of the list.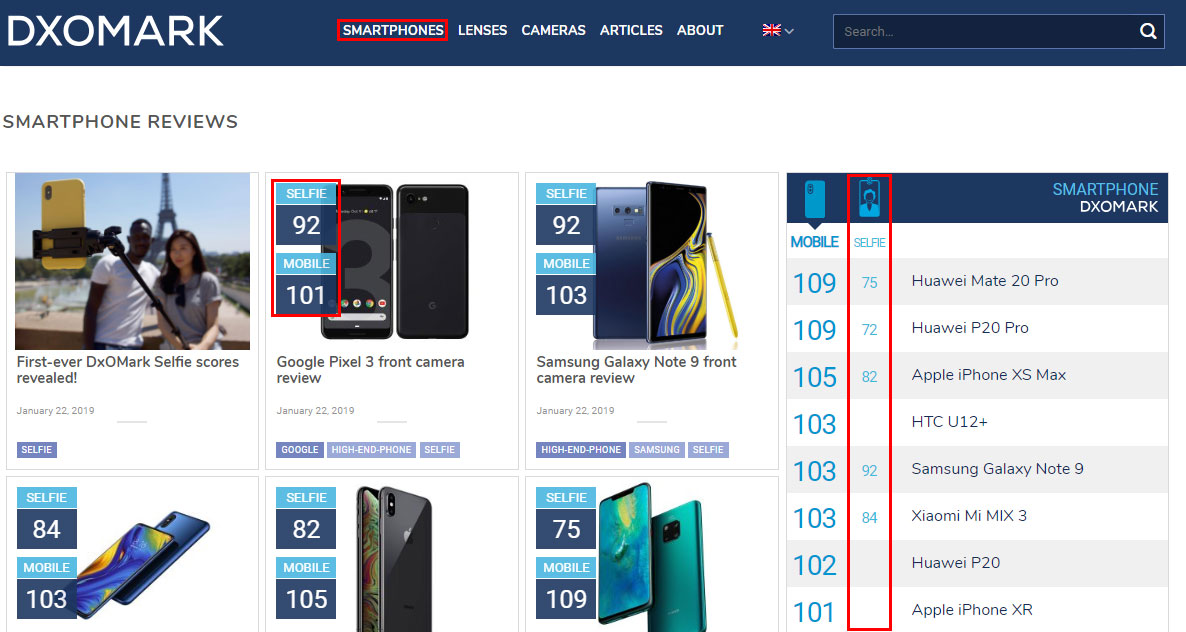 New website layout with DxOMark Selfie elements
In addition to the changes to our website layout, the main purpose of this article is to give you an overview of the first results of our front camera testing. We have launched DXOMARK Selfie with test reports for 12 smartphones that cover all brackets of the market—from entry-level devices to flagship models. The first joint leaders of the DXOMARK Selfie ranking are the Google Pixel 3 and the Samsung Galaxy Note 9, which both scored 92 points. Despite achieving the same overall score, there are a lot of differences between the two front cameras, which means that consumers should take a close look at our detailed test reports to find out which model is best suited to their selfie-shooting requirements.
The noise-versus-detail trade-off is also very different between the two cameras, with the Pixel 3 just taking the win under typical indoor lighting conditions and in low light. Image results from both cameras are excellent, but the Google puts a lot of emphasis on texture and detail and therefore accepts some noise in Pixel 3 images, while Samsung engineers have opted for a cleaner image and made some sacrifices in terms of fine details.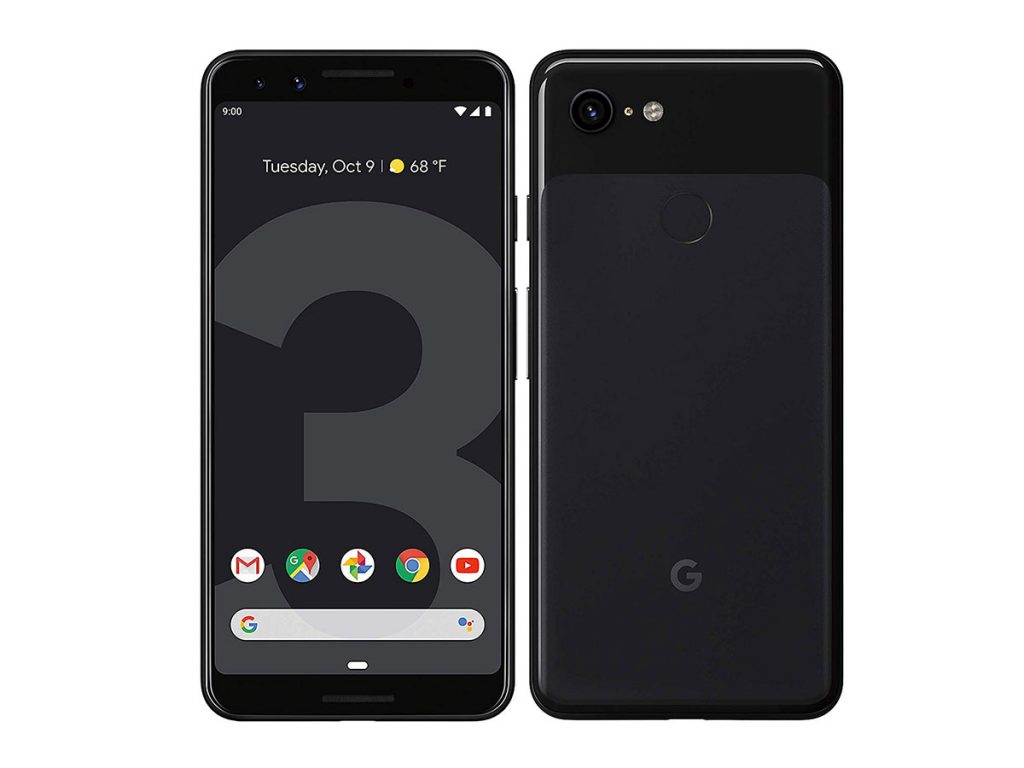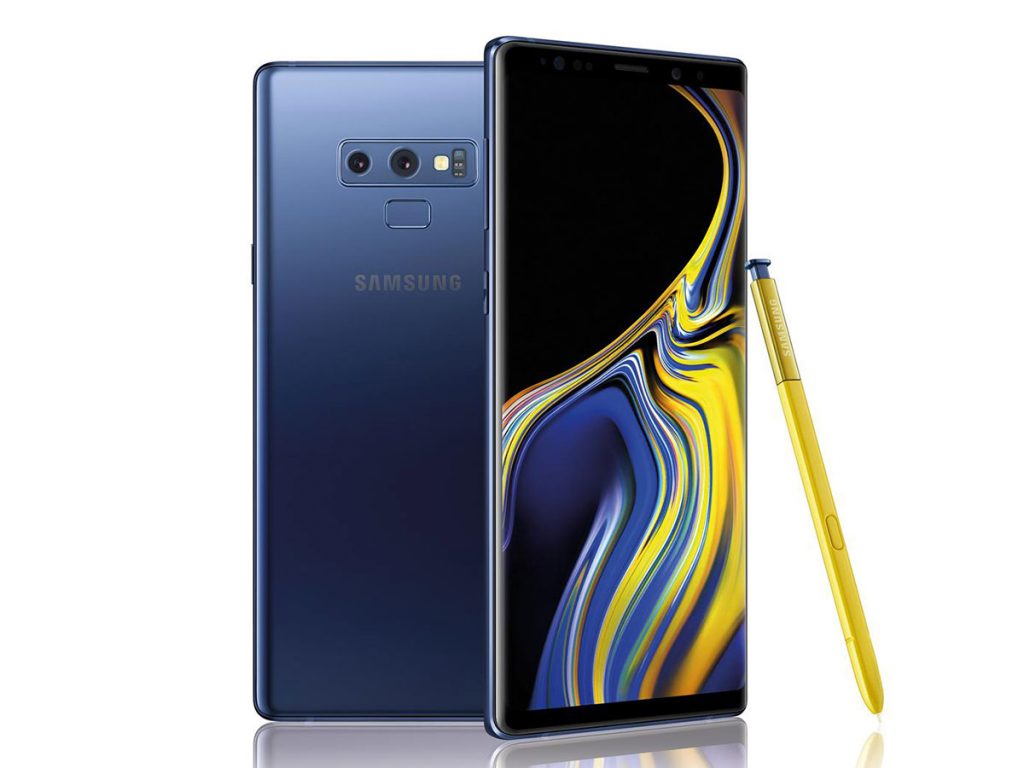 As you can see in the individual graphs for Photo and Video scores, we liked the Pixel 3's still image quality just a touch better than the Note 9's, meaning that the Google phone is also the number one front camera for selfie still image quality. However, the Note 9 takes the crown for selfie videos, thanks primarily to a better stabilization system than the Pixel's. Per above, both devices come with autofocus systems, which are still found only in a few smartphone front cameras; moreover, they are both capable of producing sharp images at any shooting distance, from close-up portraits to images shot with the camera mounted on an extended selfie-stick. The Google comes with a PDAF system, however, which is a little more reliable than the Note 9's contrast-detection AF, especially at longer shooting distances.
Right in the slipstream of the two leaders, the Xiaomi Mi MIX 3 secures the next position in our new ranking. Its front dual-cam captures great portrait shots with bokeh simulation, and the Xiaomi's video score is on par with the Note 9's. A lack of HDR processing results in some highlight clipping, though, and with a fixed-focus lens, the focus range is a little more limited than on the top devices, resulting in softness on subjects towards the back in group shots, and when shooting with an extended selfie-stick. Color rendering is very good, however.
Towards the bottom of our rankings, we find devices such as the Meitu V6 and the Intex Aqua Selfie. The Meitu V6 is a slight disappointment insofar that it comes with a premium price tag and is marketed as a selfie-specialist device. It comes with arguably the most impressive front-camera hardware specifications of all the models in this first round of DXOMARK Selfie testing: its 1/2.55″ image sensor would not look out of place on a main camera, for example. However, its impressive specs don't translate into high-end performance, as the V6 front camera suffers from a number of problems. This said, with improved tuning, the Meitu's front camera performance could likely be significantly enhanced.
The Intex Aqua Selfie comes in last in this first round. Given that it is by far the most affordable phone in this list, this is not much of a surprise; it is nevertheless a useful reference point in our testing and something to measure future entry-level models against.
The 12 smartphones in the launch edition of our new DXOMARK Selfie scores are only the beginning. As for main cameras, we plan to update the ranking frequently with the latest high-end, mid-range, and entry-level models, so keep checking DXOMARK.com regularly for more Selfie reviews. To get you started, here is the full list of links to the 12 Selfie reviews we have published today: